As the blazing heat of the Dubai sun becomes more bearable, and posters are showcased on students' social medias, it can only mean that the University of Birmingham Dubai's Student Leader elections are upon us.
Each year, six students are democratically nominated for the position of Student Leaders. Given the academic pressure that comes along with University, it is easy for the elections to simply pass us by. However, we must remember that Student Leaders play an integral role in the UoB Dubai experience. They bridge the gap between students and faculty, working to create a positive community on campus. It is no surprise that the Dubai campus is a multicultural one, making student representation of key importance.
By electing a Leader of your choice, you take the opportunity to shape your time at university. Voting in these elections goes far beyond student politics, it allows us to play a part in determining the future of our university.
Here is a video from Tanvi, Student Leader from 2019-20, explaining more about why Student Leaders are such an important role:
The 2020-21 Student Leader Hustings took place on 18th October 2020 over Microsoft Teams. Although the event wasn't in-person like last year's Hustings, I could feel the excitement and anxiety of the students radiating off of my computer screen. The turnout for this year's elections was double that of last year, with both new and returning students deciding which candidates struck a chord with them.

Fifteen candidates, each from diverse fields, took turns to address the student body and declare their manifestos within the 2-minute time constraint. Later, each candidate answered questions sent in by the student body, discussing contemporary issues at the university, future plans, and making the most out of our university experience despite the pandemic.
The event came to a close with Richard Kaminski, the university's Student Wellbeing Officer, giving away free pizzas to the first twenty five attendees to email him (I can proudly say I secured myself a delicious vegan pizza!).
Over the next week, posters were displayed, and votes were cast. The much-awaited results of the Student Leader Elections were announced on 25th October.
Our 2020-21 Student Leaders were announced as:
Alisha Aleem, BSc Business Management:
Alisha aims to develop an environment of trust and community welfare. One of her goals is to increase the University's outreach through networking, representation, and events.
Arjun Muralidharan, BSc Accounting & Finance:
Arjun hopes to bring about a positive change at the University by implementing the 4 C's on campus – Communication, Community, Caring for mental health, and Collaborative learning.
Lakshmi Ajit, BSc Business Management with Marketing:
Lakshmi vows to be a voice for the student body. Her main focus is on tackling social issues and raising awareness on mental health through interactive group sessions, workshops, etc.
Joe Elderiny, BSc Computer Science:
Joe's positive outlook on life is contagious. He hopes to bring amazing clubs and events to the University whilst encouraging students to become the best versions of themselves.
Jin Liu (Scarlett), MSc International Business:
Scarlett was the only Masters student to contest for the elections. She aims to work with students during the COVID-19 outbreak and provide consultations help to ensure their physical and mental wellbeing.
Rahil Thykadavil, BSc Money, Banking and Finance
Rahil is a returning student leader. He was the treasurer for the Student Association last year, and it's no surprise that he got re-elected. For this academic year, he hopes to plan fun socials and career-focused events, provide academic assistance, and garner feedback from the student body.
I'd also like to give a shout out to the Student Leaders for the 2019/20 academic year. They did an absolutely wonderful job in making the past year a memorable one!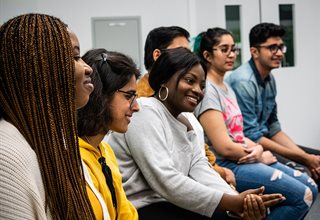 Well done to all the candidates and congratulations to the new Student Leaders!
Written by Rhea, BSc Economics